I did a quick search and was unable to find a decent writeup on integrating an iPod or Headjack (for smartphones, laptops, or other devices with 3.5mm headjack) input port. If I am unclear anywhere just let me know. For starters I pulled the radio and made sure the ports looked correct. If you plan on doing this make sure the back of your radio looks like the picture below. To pull the top cover off just pull, there are 5 tabs (I think 5 total) that hold it in place. Just don't pull to hard. Theres a tab at the bottom, its normally the last to come out. Be extremely careful with that one. Then to pull the radio there are 4 screws, one at each corner. They can be removed with a screw driver.
Once you verified your radio looks like that you can order the parts.
Parts List:
http://www.amazon.com/gp/product/B00...00_i00_details
http://www.amazon.com/gp/product/B00...00_i00_details
http://www.amazon.com/gp/product/B00...00_i00_details
Red and White RCA Panel mount
Soldering Iron
Screwdriver
Wire Strippers
Patience
Once you have all the parts, start by taking that top cover off. Drop the male end down the air conditioning side. Run the extension cable down the driver side of the center console. Its a little tricky. This is where patience comes in. There are three screws on the left side in the back of the center console. Remove those screws. You may have to move the seat all the way forward and all the way backwards multiple times. Drill a hole in my center console and soldering in the panel mounts. Be very careful and make sure the two holes are not too close or else the terminals will not slide on. The mounts are optional depending on how you want to handle the mounting of the a/v cables to plug in.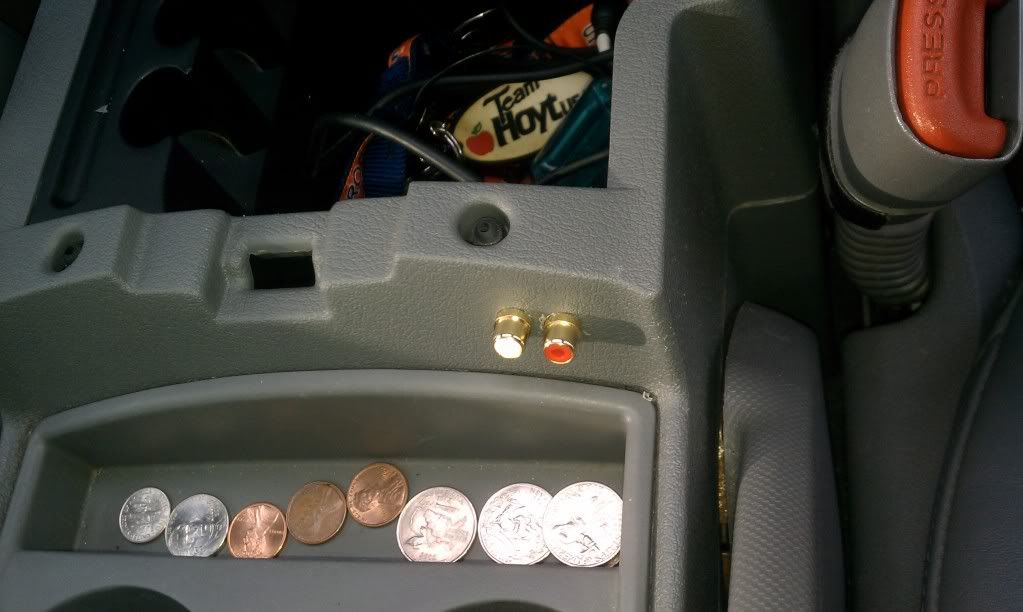 In the pic it looks like they stick out far, but when the lids close they are not visible. That was one thing I was worried about. I wanted it to look like it was factory made.
Now for the iPod cable I routed that through the glove box. Its pretty straight forward how it can be done. When the iPod is attached it powers the iPod and the iPod can be controlled from the steering wheel. The only down side is the song information will not be displayed on the screen. Now re-install slide the iPac down the side of the radio and slide the radio back in place. Put screws in. Then put the cover in. If you have VES already it will have to get disconnected. It will not get rid of factory satellite.
Finished product:
If anyone has any questions or needs a pic of something please let me know. I'll do what I can.

__________________